By Renting Our Post, You're Helping Our Veterans
All proceeds from our Post rentals support our veteran and community programs and help keep our home open.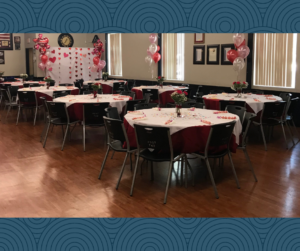 Newly paved & painted parking lot
New paint inside & out
New flooring throughout
Newly remodeled kitchen & restrooms
Newly remodeled canteen
Tables & Chairs included
Stage, 2 big screen TVs
Can accommodate up to 212 guests
Access to our full bar staffed with a bartender
Rates:
Sundays through Thursdays: $100 per hour up to 5 hours
Fridays and Saturdays: $1200 for 8 hours
Refundable Reservation Fee: $300 (Refundable upon inspection.)
Cleaning Fee: $120
Newly Remodeled Kitchen Use: $150 per event
Canteen Access with Bartender: $100 for the first 5 hours, then $20 per hour thereafter, plus the purchase of all beverages ordered
Please select the date for your event then fill out the form to complete your request. We will get in touch with you to confirm your booking.